COVID-19 Information
Updated January 19, 2021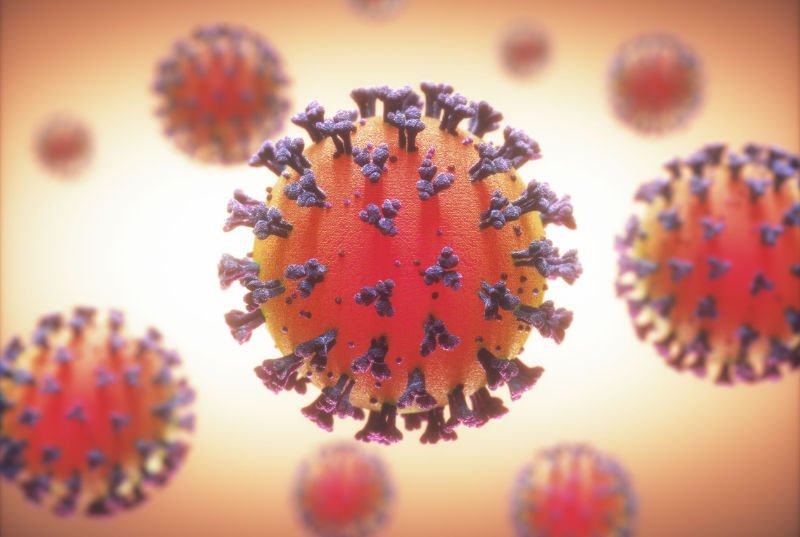 January 19, 2021
Important Update!
St. Luke is entering phase 1b of the COVID-19 vaccination process. However, due to current vaccine supply levels and logistics, St. Luke providers are prioritizing patients to identify those at the highest risk. Our scheduling staff will reach out to them to get their vaccine scheduled.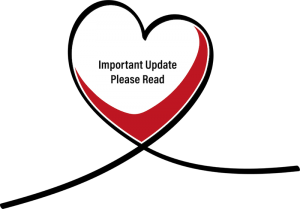 *At this time we are unable to accept phone calls to schedule vaccines for 1b or any subsequent phases. * Our systems are being overwhelmed by call volumes; we ask that you not call at this time to schedule a vaccine.
Please note that we are working on a system that will allow community members to register for a vaccine and we will announce once that is available. Stay tuned to our website, Facebook page, and other media sources for continued updates. Thank you for your patience and cooperation!
January 12, 2021
The DPHHS COVID-19 vaccine distribution recommendations were updated on January 5th. You can view them here: https://dphhs.mt.gov/Portals/85/publichealth/documents/HAN/2021/HANUD2021-1.pdf.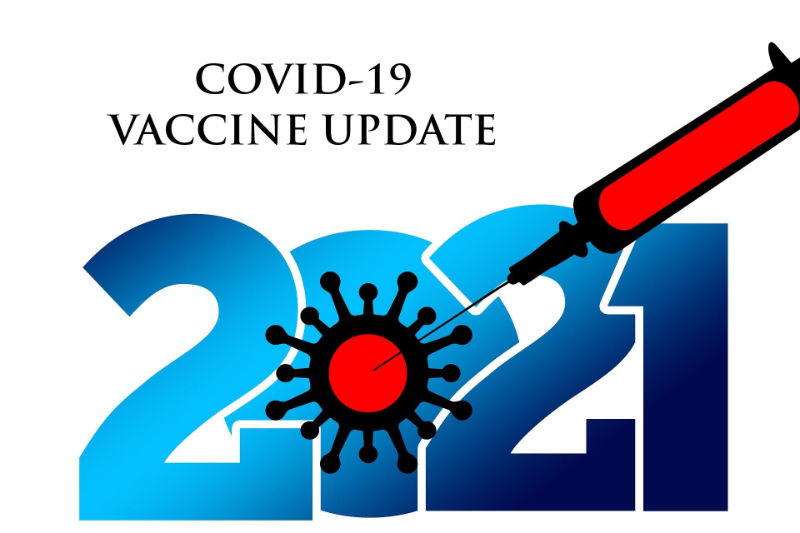 We are still in Phase 1a of the vaccine rollout process. This phase targets healthcare workers and staff and residents of long term care facilities. It also includes healthcare workers with direct patient contact, such as dentists, orthodontists, physical therapists, optometrists, home health workers, and others that fit those criteria. St. Luke is currently administering vaccines through the hospital, based on those criteria. If you qualify for Phase 1a, you may call to schedule your vaccine (406-528-5383).
We do not yet know the specific date that we will transition into Phase 1b, which includes those age 70 and older, persons aged 16-69 with high-risk medical conditions, and American Indians and other people of color who may be at elevated risk for COVID-19 complications.
Our St. Luke providers will prioritize those at highest risk and staff will then contact them to schedule their vaccine, based on our available supply levels. At this time, we are NOT accepting calls to schedule vaccines for Phase 1b.
Until we are able to secure a consistent supply of vaccines, doses will need to be prioritized to those at the highest risk. At this time, please do not call to schedule your vaccine for Phase 1b, as the call volume can quickly overwhelm our systems. If you have questions, you certainly can reach out to your physician.
Stay tuned to our website and our social media channels for continued updates. We will let you know once we have entered Phase 1b and provide further information as it becomes available. Thank you for your understanding and patience.
January 9, 2021
As you may be aware, St. Luke recently received an initial round of COVID-19 vaccine doses and we currently have enough to cover our staff without any shortages.
We are prioritizing vaccinations according to DPHHS guidelines and are still in Phase 1a of the vaccine rollout. This phase is open to frontline healthcare workers and staff and residents of long-term care facilities.
If community members qualify for a vaccine under Phase 1a guidelines, they are welcome to call (406) 528-5383 to schedule an appointment (available Monday through Friday, 7:30 a.m. to 4 p.m.).
The appointment takes about 20-30 minutes. Vaccinations are being administered through the hospital, so patients must be screened upon arrival and wear a mask in the facility.
We expect to have more details soon on the next Phase, 1b, which will include: Montanans age 70 or older, those age 16 to 69 with underlying severe medical conditions, and Native Americans and other people of color with elevated risk. Please follow us here on our website and on our Facebook page for continued updates!
January 6, 2020
Montana is presently in Phase 1a of its vaccine distribution plan, which targets frontline health care workers as well as staff and residents of long-term care facilities. To date, nearly 17,000 health care personnel have received the first vaccination dose.
Phase 1b is expected to roll-out in mid-January and is projected to continue through March. An estimated 90,000 Montanans will be eligible to receive the vaccine, including people aged 75 years or older, frontline essential workers, residents of congregate care and correctional facilities as well as American Indians and other people of color who may be at elevated risk for COVID-19. Education and child care workers will qualify to receive the vaccine in phase 1b.
By mid-March, phase 1c is expected to begin and will continue through July. This phase covers another 171,000 Montanans including those aged 65 years and older, high risk individuals between ages 16-64 with underlying medical conditions and other essential workers.
Phase 2 encompasses all remaining residents willing to receive the vaccine that are 16 years or older and is expected to begin in July 2021. From there, vaccination will be an ongoing effort.
These timelines only account for the distribution of the first dose of available COVID-19 vaccines. Both vaccines from Moderna and Pfizer require two doses for immunization, the second dose is administered about a month after the patient's initial dose. "
December 28, 2020
St. Luke received its first doses of COVID-19 vaccines last week. This initial round of vaccines is prioritized for healthcare workers and nursing home residents.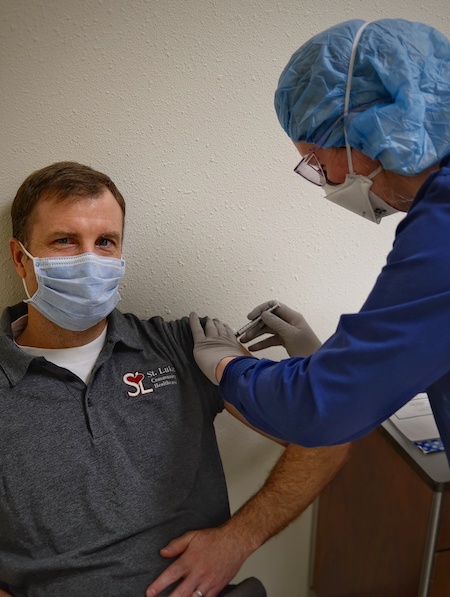 We will continue to share additional information as the vaccine becomes available to the public.
We asked the first ten staff who received the vaccine why they were excited to jump on board.
Here's what they had to say:
Dr. Vizcarra: "It's normal to have some concerns about this vaccine, but I genuinely feel that the benefits far exceed the potential risks."
Dr. Hovorka: "I think it is important to get the vaccine because of those around me…in the hospital, the ER, the clinic, my home, and my community. This is a chance to start getting back to normal."
Jill Pennington: "I've been excited for this day! I would much rather have the vaccine than COVID."
Lauren Velk, CRNA: "This is the beginning of the end of COVID. I'm very excited to see it's here!"
Quincy Taylor: "I want to show our community that this is safe and effective. As leaders in healthcare, we're here today to show that."
Greg Weller: "As a manager at St. Luke and part of Incident Command, I'm here to show the safety of the vaccine and set the example that we should get it. I want to do my part to increase immunity in our community!"
Mary Velk, PA-C: "I have no hesitation. I'm excited to be help lead the vaccine charge for our community!"
Casey Houk: "I'm a bit nervous of course, but I want to protect my family. After seeing the effects of COVID first hand on the front lines, I don't want that to happen to anyone. I'm doing this out of love for my patients and my family!"
Dr. Thorson: "There are not a lot of preventive measures for COVID-19. I trust my colleagues in science and am going to take advantage of this opportunity!"
Steve Todd, CEO: "For those who have any doubts, my hope is to provide some reassurance. I have all the confidence that this vaccine is safe and effective."
---
December 23, 2020
St. Luke Community Healthcare will soon receive an initial shipment of COVID-19 vaccines, which will be prioritized according to CDC recommendations, starting with healthcare workers and nursing home residents. While we don't know specific dates yet, we are optimistic that in the early months of 2021 we will have the vaccine available to our local at-risk residents (ex. other frontline workers, those over 65), and soon thereafter for the general public.
We will continue to share information as it develops, so you will be well informed when a vaccine becomes available to you. Please stay tuned to our website (www.stlukehealthcare.org) and social media platforms for further developments! You can also visit www.cdc.gov or www.dphhs.mt.gov for more information and planning on the vaccine rollout process.

December 23, 2020
According to the Centers for Disease Control and Prevention (CDC), "the safest way to celebrate winter holidays is at home with the people who live with you. Travel and gatherings with family and friends who do not live with you can increase your chances of getting or spreading COVID-19 or the flu." Travel can also increase your chances of getting or spreading COVID-19. As a result, CDC recommends postponing travel plans and staying home this year, as it provides the most protection to yourself and others.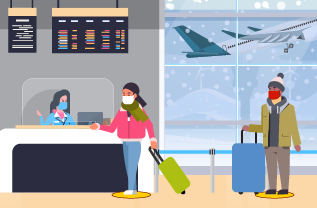 If you decide to travel, there are a few important questions to consider beforehand.
Are you, someone in your household, or anyone you will be visiting at increased risk for getting seriously ill from COVID-19?
Are cases high/increasing at your destination?
Are hospitals in your community or at your destination overwhelmed with COVID-19 patients?
Does either your community or your destination have visitor requirements or restrictions?
During the 14 days prior to your travel, have you or your loved ones had close contact with people they don't live with?
Do your plans include traveling in methods that make physical distancing difficult (ex. plane, bus)?
Are you traveling with people who don't live with you?
If you answered yes to any of these questions, you should consider making other plans, such as hosting a virtual gathering or delaying your travel.
If your answers are no and you decide to travel, be sure to follow your daily precautionary measures and read more about travel preparation at www.cdc.gov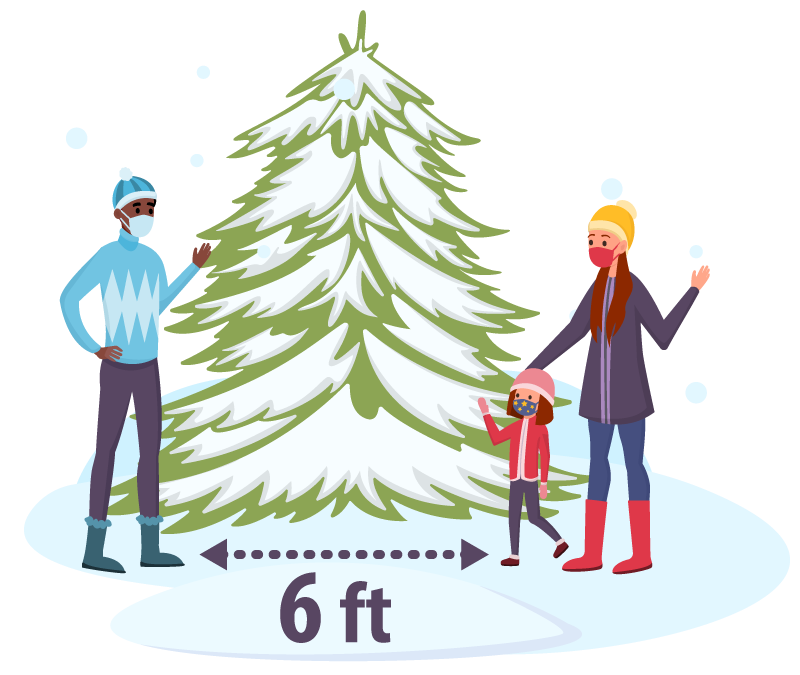 We can all make the holidays safer.
Wear a mask
Physically distance from others who don't live with you
Avoid crowded indoor spaces
Wash your hands often
Get your flu shot, if you haven't already
Consider other holiday activities
Host a virtual celebration with friends & family
Gather virtually for a gift exchange or activity
Decorate for the season
Throw a virtual dance party
Enjoy the winter weather outside
Volunteer to help others in need
Attend virtual religious ceremonies
Schedule a virtual visit to the North Pole.
Find more information at www.cdc.gov (information and photo source for this update)
---
December 17, 2020
Please visit: https://dphhs.mt.gov/…/cdepi/diseases/coronavirusvaccine for updated COVID-19 vaccine information.
Status: The Food and Drug Administration has granted an emergency use authorization to Pfizer for its COVID-19 vaccine. Montana will receive its first round of vaccine doses this week. Due to a limited initial supply of vaccine, vaccine distribution will occur in phases beginning first with health care workers and long term care facility staff and residents per guidance from the federal Advisory Committee on Immunization Practices (ACIP).
Vaccines are first being delivered to 10 Montana hospitals this week, with vaccinations of healthcare workers beginning shortly thereafter at those locations.
The locations are:
Billings Clinic, Billings
St. Vincent Healthcare, Billings
Bozeman Health Deaconess Hospital, Bozeman
St. James Hospital, Butte
Benefis Health System, Great Falls
Great Falls Clinic, Great Falls
St. Peter's Health, Helena
Kalispell Regional Medical Center, Kalispell
Providence St. Patrick Hospital, Missoula
Community Medical Center, Missoula
---
December 15, 2020
The FDA informed Pfizer on 12/11/20 that they intend to proceed toward an authorization for their vaccine. We understand a limited number of vaccine doses will be shipped to some Montana hospitals, but we do not have any details at this time. When vaccines do arrive, we anticipate the first batches will be earmarked for healthcare workers and nursing home residents. We do not know when vaccines will be available for public distribution. When vaccines arrive for patients and the general public we'll be announcing availability on our website.
---
December 7, 2020
As we enjoy this holiday season, it's critical that we find a way to celebrate in a manner that protects ourselves and others from the spread of COVID-19. We continue to see an increase in hospitalizations across the country, which makes celebrating at home with those you live with the safest option.
The Centers for Disease Control and Prevention (CDC) website is a great resource for considerations as you plan your festivities. Visit: https://www.cdc.gov/coronavirus/2019-ncov/daily-life-coping/holidays.html to learn more.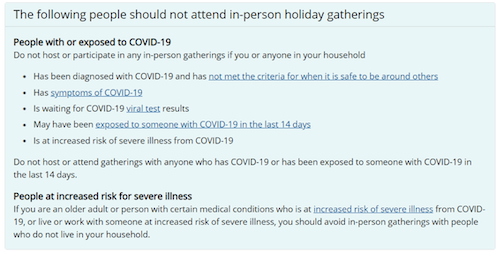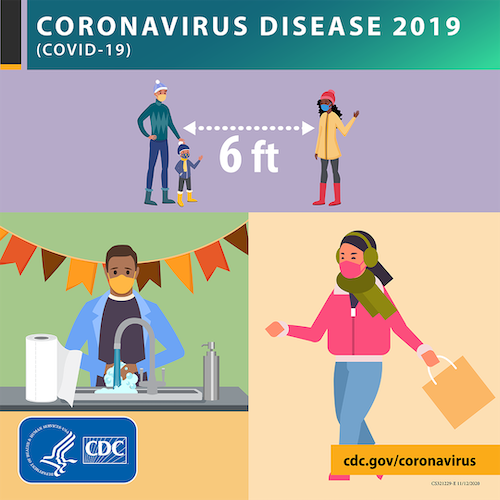 Celebrate the holidays with family and friends in ways that help slow the spread of COVID-19. Follow these tips:
Wear a mask that covers your mouth and nose.
Stay at least 6 feet apart from people you don't live with.
Wash your hands with soap and water for 20 seconds or more or use a hand sanitizer that contains at least 60% alcohol.
---
October 6, 2020
COVID-19 Testing Cost Information
COVID-19 Onsite PCR Test
$100 test charge
$30 collection & processing
$130 total cost billed to insurance
Most insurances will cover this expense. Note: PCR samples sent to the State Lab will result in a $30 collection and processing fee only, which is also billed to insurance.
---

We will add our most recent announcements/information to this post as we have them.
ST. LUKE HEATHCARE's COVID-19 (Coronavirus) UPDATES.
---
COVID-19 Antibody Testing Available at St. Luke Community Healthcare
June 18, 2020
Our high-quality test has been fully validated and can tell you within 24-48 hours if you have possibly been exposed and developed COVID-19 (SARS-CoV-2) antibodies
This test is open to everyone. You may be interested in antibody testing if:
✓ You are 10-14 days out from an illness that you think may have been COVID-related
✓ You suspect you were exposed to someone who tested positive
✓You are interested in donating plasma to help others
✓ You would like to know your COVID-19 exposure status
Cost: $35 out of pocket.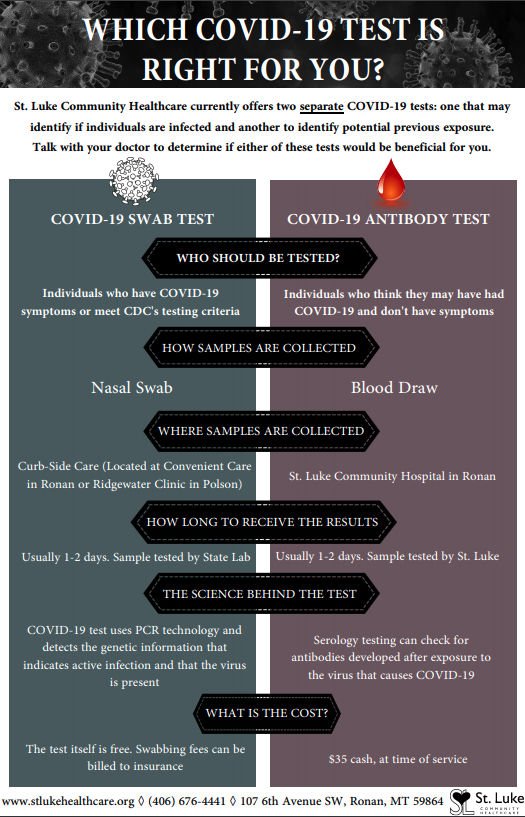 Note: There are limitations to this test that are best discussed with your Primary Care Provider. Antibody testing is intended to identify past exposure, NOT current infection (drive-thru testing is available for this need).
For more information you can check out our fact sheet. COVID Antibody Testing Fact Sheet
To get tested, please come to the Main Entrance at St. Luke Hospital in Ronan.
Testing is available Mon- Fri 7:30 am to 5:30 pm and Sat 7:30 am to 1:30 pm.
Call (406) 528-5248 with questions.
---
March 26, 2020
St. Luke Community Healthcare invites those who are able, to help support our community response efforts related to COVID 19. In these unprecedented times, we want to be more prepared than ever to care for you and your loved ones. With your generously donated funds, we can provide necessary supplies, personal protective equipment, and telehealth services to safeguard the community and our healthcare staff. We will continue to do what we do best: offer optimal care and rapidly respond to community needs, especially in times of crisis.
You can make a difference from the safety of your own home. Working together, we can ensure that we come through this as a stronger, more resilient community. Donate now.
---
March 16, 2020
Please Note: In order to keep everyone as healthy as possible, we are taking a break from our New Mom Support Group. Moms, our Nurse on Call (406-676-3737) and Care Providers are still here to support you.
Please contact us with any questions or health concerns.
---
March 16, 2020
In the interest of public health, we will be CLOSING our workout facility in Physical Therapy to the public. ONLY scheduled patients who are healthy will be able to access all workout areas until further notice.
We appreciate your patience while we work to reduce our community's risk of contracting COVID-19.
---
March 15, 2020
An update on COVID-19 from the CDC. Please contact us at 406-676-4441 or our Nurse On Call at 406-676-3737, prior to coming in, for advice specific to your situation. Remember, if you are experiencing breathing problems or require emergency care, please call 911.
---
March 14, 2020
NOTICE TO FAMILY AND FRIENDS OF ST. LUKE EXTENDED CARE RESIDENTS–St. Luke continues to monitor the rapidly changing CDC recommendations to prevent the spread of illness in the wake of Coronavirus (COVID-19). In order to protect our most vulnerable population, we will be restricting visitors to St. Luke Extended Care until further notice. If you have loved ones who are residents and have any questions or concerns, our Extended Care staff will be ready to answers any questions. You can reach us at 406-676-2900.
---
March 14, 2020
Many people are wondering whether they should be tested, or even if they can be tested, for the Coronavirus virus. St. Luke is currently following the CDC's testing recommendations and guidelines, which can be found here: https://www.cdc.gov/coronavirus/2019-ncov/php/risk-assessment.html.
• These guidelines are fairly complex, as there are many variables that go into determining your risk level. These can include travel history, exposure level, and symptoms.
• If you are experiencing respiratory distress or require emergency care, please call 911.
• If you call into our hospital (406-676-4441) or our Nurse on Call (406-676-3737), you will be screened to determine your level of risk.
• If any testing is determined to be necessary, our medical staff will start with tests that would rule out other causes of illness, such as the flu.
• If other illnesses are ruled out, and Coronavirus testing is warranted, we will communicate with Public Health and perform a swab to be tested. Please note, St. Luke does not have our own tests on-site; testing is done by the Public Health Department.
• While waiting for testing results, you may be placed into isolation at a hospital or asked to self-isolate at home.
• If a confirmed positive test occurs, you will receive further care instructions, which could involve hospitalization or self-treatment at home.
*NOTE: If it is determined that you require Coronavirus testing, the test itself will be free to you. However, the clinic or hospital visit will be billed to your insurance, like any other visit.
If you have any questions about this process, please contact our Nurse on Call at (406) 676-3737. Stay tuned for more information, as it becomes available.
We will continue to post announcement at https://stlukehealthcare.org/covid-19 and on our Facebook page https://www.facebook.com/stlukemt
---
March 6, 2020
Our medical and administrative staff are closely monitoring developments of COVID-19, otherwise known as the Corona Virus. COVID-19 is a new virus strain that is believed to spread in similar ways as the common cold, such as when an infected person coughs or sneezes. Symptoms include fever, cough and difficulty breathing.
To help prevent the spread of COVID-19 and other respiratory illnesses, you can take simple steps to protect yourself and your family.
• Stay home if you're sick,
• Avoid contact with sick people when possible,
• Cover your cough and sneezes with the crook of your elbow or a tissue
• Avoid touching your eyes, nose, and mouth and wash your hands frequently
• Clean and disinfect frequently touched objects and surfaces using a regular household cleaning spray or wipe
Hospital and clinic staff are questioning all patients at registration about recent travel, potential exposure to the virus, and current symptoms when seeking care at St. Luke.
If you are experiencing symptoms and need guidance on what to do, you can call 676-3737 at any time and a nurse will be able to answer your questions.
St. Luke is following CDC guidelines, and encourage community members to do the same.
Some helpful links include:
https://www.doh.wa.gov/Portals/1/Documents/1600/coronavirus/COVIDexposed.pdf
https://www.arcgis.com/apps/opsdashboard/index.html?fbclid=IwAR3qwrkbHPkm82fHcp9W6fBrcP6AUNNVsOdcO1ggsfRo0kBGxXiIzCe1ii4#/bda7594740fd40299423467b48e9ecf6
https://www.cdc.gov/coronavirus/2019-ncov/index.html
https://dphhs.mt.gov/publichealth/cdepi/diseases/coronavirusmt"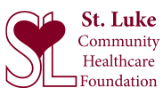 MAKE A DIFFERENCE
Donate to the St. Luke Foundation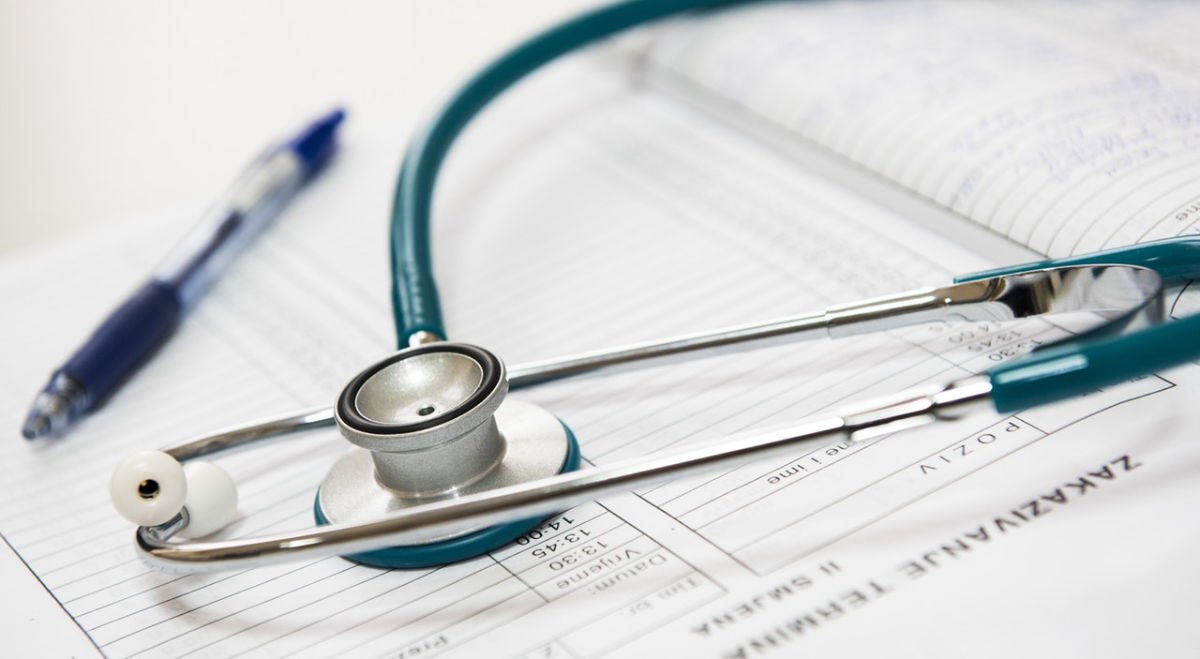 Join Our Team
Applications remain active for 1 year.
St. Luke is an Equal Opportunity Employer.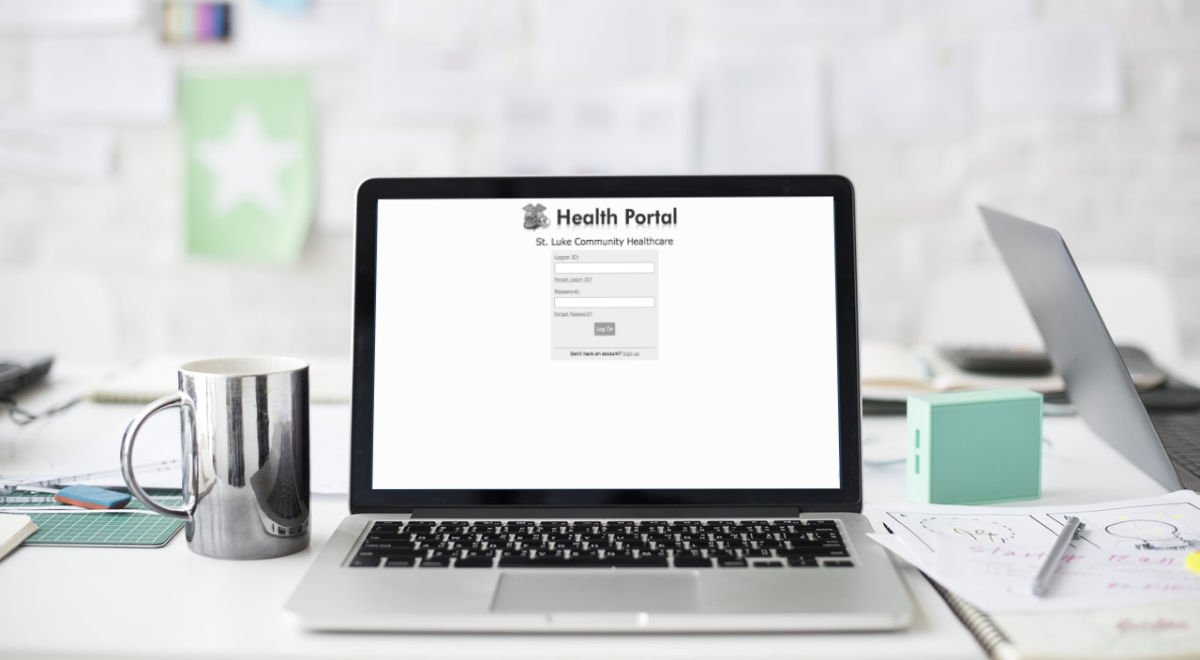 myHealth Portal
Keep track of medications, refills, receive lab results and update contact/insurance info.
FINANCIAL ASSISTANCE
If you are in need of services at St. Luke Community Hospital, and you are without healthcare coverage or have financial challenges, please print and complete a copy of the following forms.