James Clough, DPM
Podiatric Surgery
---
Biography
Facility/Office:
Southshore Clinic
St. Luke Community Clinic – Southshore
104 Rufus Lane
Polson, MT 59860
Office Number:
Background: Podiatry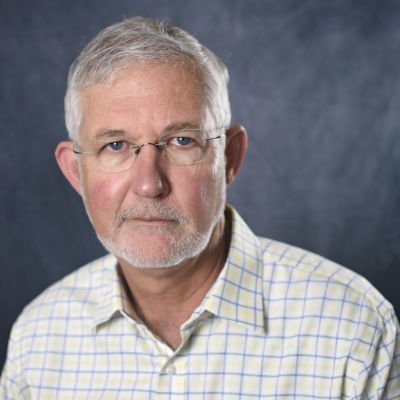 James Clough, DPM, is a podiatric surgeon and brings his expert foot care to Lake County patients. Dr. Clough's philosophy of practice is to employ the best technology and the latest procedures to achieve optimal outcomes for his patients. He prefers a conservative approach to most foot problems initially, is able to treat complex foot deformities surgically, and has a special interest in foot biomechanics and sports injuries.
Dr. Clough received his medical degree in podiatry from the California College of Podiatric Medicine in San Francisco, followed by a surgical residency at Metropolitan Hospital – Parkview Division in Philadelphia, Pennsylvania. Dr. Clough is a Board-Certified diplomate with the American Board of Foot & Ankle Surgery and a Board-Certified fellow with the American College of Foot & Ankle Surgeons.
Dr. Clough's podiatric services include:
ingrown toenail removal
bunionectomy
rear-foot reconstructions
His diabetic limb salvage techniques can help diabetic patients preserve their foot function and avoid amputation. Using biologic grafts, Dr. Clough can help heal wounds more quickly, reduce infection rates, and reduce protein loss (which can impact blood sugar levels).
Dr. Clough urges those with diabetes to stay on top of their foot care needs:
schedule annual foot exams
seek proper nail care
treat neuropathies and callouses
perform at-home foot inspections regularly
When he's not caring for patients, Dr. Clough enjoys spending his time outside snow skiing, hunting, and tending to his garden.
Dr. Clough will be in our Southshore clinics on Thursdays and Fridays.
"This [foot] surgery was the best thing I ever did for myself. Great doctor, team, and facility!" – Karol K.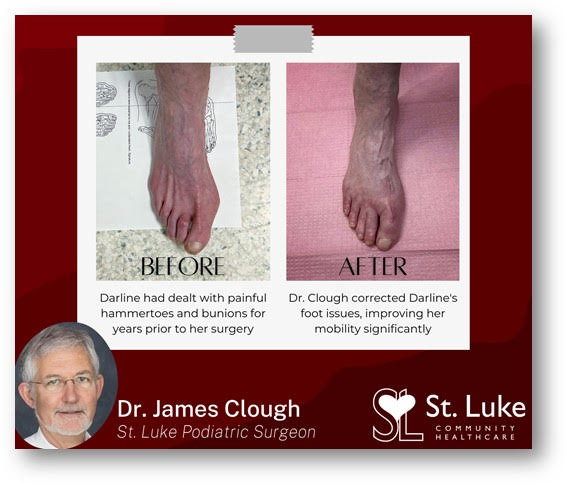 Darline recalls a long history of foot problems. She had dealt with hammertoes nearly all of her life, but in recent years the discomfort got to the point where she had to address it. "My shoes wouldn't fit and I had bunions on both sides of both feet." Darline requested a consultation with St. Luke Podiatric Surgeon, Dr. James Clough, who recommended surgery. He straightened out her big toe and removed two neuromas from the bottoms of her feet. Since her procedure, Darline says her pain level has greatly reduced to an "occasional mild discomfort." She was pleased with her treatment process, saying she experienced "very good service and help."
Darline would recommend Dr. Clough to anyone in a similar situation. "Dr. Clough listened to me and ran multiple pre-surgery tests, to make sure I was healthy enough to undergo a procedure." Darline was pleased to get her mobility and quality of life back after seeing Dr. Clough and encourages others in a similar situation to avoid delaying the process, so they can experience the same freedom she now has. If you would like to schedule a consult with Dr. Clough, ask your primary care doctor for a referral or call (406) 883-2555 to schedule an appointment with him at the St. Luke Community Clinic – Southshore in Polson.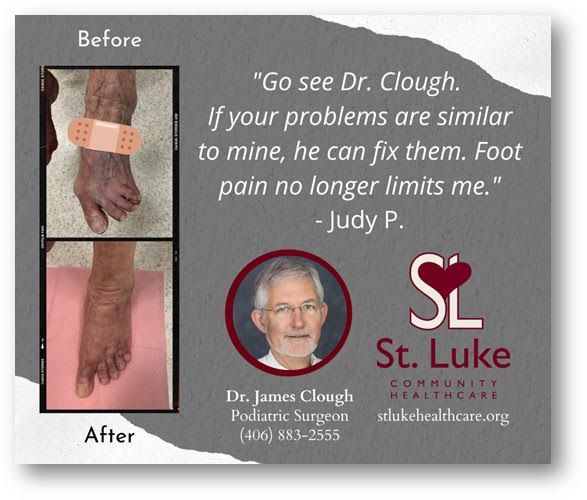 Judy had always lived an active life and was still working in forestry up to the age of 75 when she started developing foot pain. Her toes began curling as a result of arthritis and it worsened to the point that she was walking on the sides of her feet to get around. Judy's primary care doctor learned of her mobility issues and, upon seeing the condition of her feet, immediately referred her to St. Luke Podiatric Surgeon, Dr. James Clough. Judy said working with Dr. Clough and his nurse Kelly was a very enjoyable experience. "They treated me well and took good care of my feet." Good care involved extensive correction of her arthritic feet, with correction of the toes and removal of painful pressure points on the bottoms of her feet.
 After recovery, Judy's family quickly noticed the improvement in her mobility and Judy was pleased to get her quality of life back. She was also happy just to recognize her feet again. "I have pretty feet now," she shared. After walking in the woods for 25 years and then losing her mobility, Judy doesn't take the improvement in her gait for granted. "Go see Dr. Clough," Judy recommended. "If your problems were similar to mine, he can fix them. Foot pain no longer limits me." If you would like to schedule a consult with Dr. Clough, speak with your primary care provider or call (406) 833-2555 to schedule an appointment with him at the St. Luke Community Clinic – Southshore in Polson.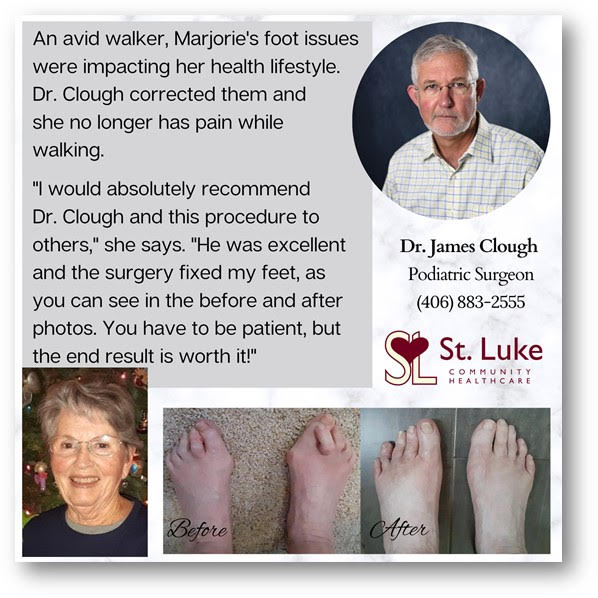 Marjorie recalls having issues with hammer toes for years. She always found a way to deal with them, including wearing Band-Aids on the tops of her toes to ease her red, chafed skin. However, last winter in Arizona, she was walking to her mailbox and noticed she couldn't fully roll through her right foot. "It hurt to bend my toes. When I got back to the house I looked and saw that my big toe on my right foot had crossed under the second toe!"
 When she returned to Polson, Marjorie started looking into her options and had heard good things about Dr. Clough. "My husband was a doctor, so I checked Dr. Clough out with some MDs I know, who all spoke very highly of him. They told me not to worry, that he would do a great job." Both of Marjorie's feet had bunions and hammer toes that needed correcting. "I figured this was the summer to do it since I couldn't really go anywhere. I decided to have both feet done, one after the other. I'm lucky Dr. Clough enjoys minute, detailed surgery…my right foot took over four hours!"
 Now that she's done with both procedures, Marjorie had noticed that she has no pain while walking and her toes are no longer rubbing together. An avid walker, who used to put on one to two miles a day, she is very excited to get back to her healthy, active lifestyle. When asked if she would recommend Dr. Clough and this procedure to others, Marjorie said, "Absolutely. Dr. Clough was excellent and the surgery fixed my feet (as you can see in the before [left] and after [right] photos). You have to be patient, but the end result is well worth it!"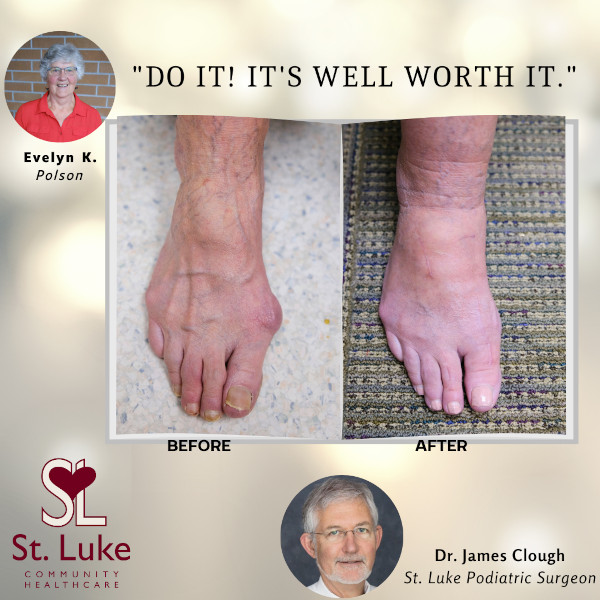 Evelyn has spent most of her life on her feet. As a working mom, many of her days were spent in uncomfortable formal footwear and Evelyn developed hammertoes and bunions over time. For many years she was too busy to prioritize her foot care, but as the pain worsened she knew she needed to address it. Evelyn was referred to St. Luke Podiatric Surgeon, Dr. James Clough, who did a thorough assessment of her symptoms and suggested she correct the issues through foot surgery. Evelyn notes she had excellent care every step of the way. She was patient with herself during the healing process and was able to recover fully with home treatments and exercise. Now Evelyn is able to do her routine tasks more comfortably – including walking and hiking. She reports, "The pain just isn't there." Evelyn highly recommends a consult with Dr. Clough if you experience similar issues. "If you can make the time, do it! It's well worth it." To learn more call (406) 883-2555.
St. Luke is committed to making our website accessible to all users, including those with disabilites. If you encounter any issues or require aditional assistance with specific pages or forms, please contact our PR Manager at (406) 528-5262. Thank you.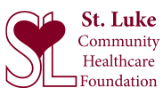 MAKE A DIFFERENCE
Donate to the St. Luke Foundation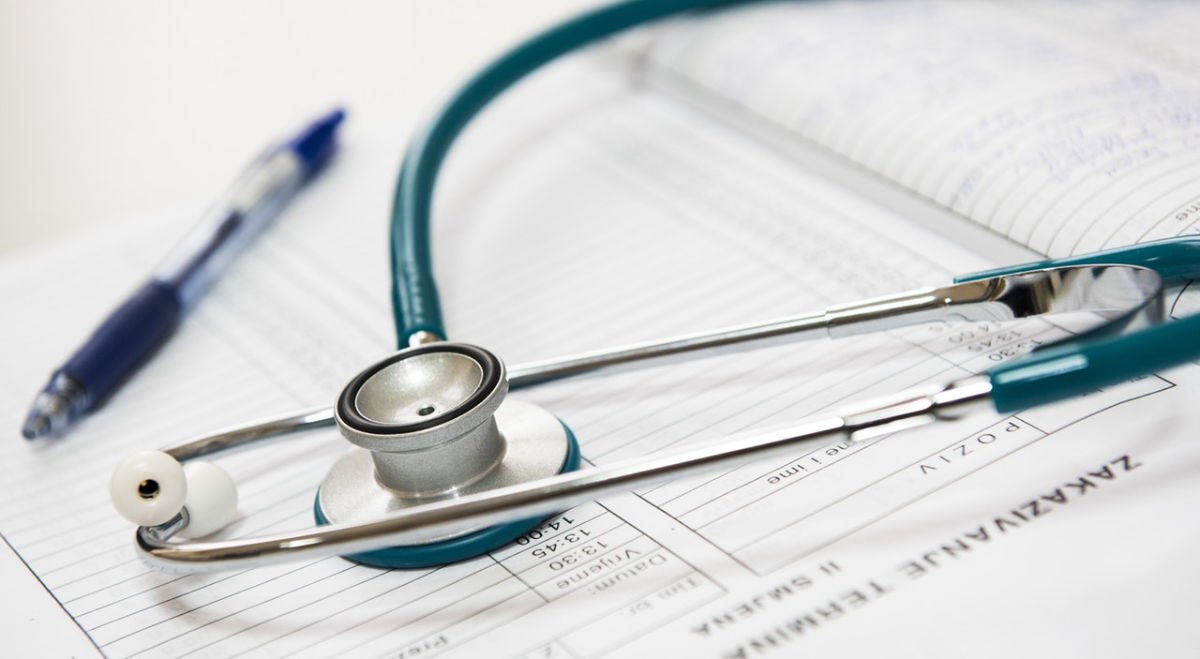 Join Our Team
Applications remain active for 1 year.
St. Luke is an Equal Opportunity Employer.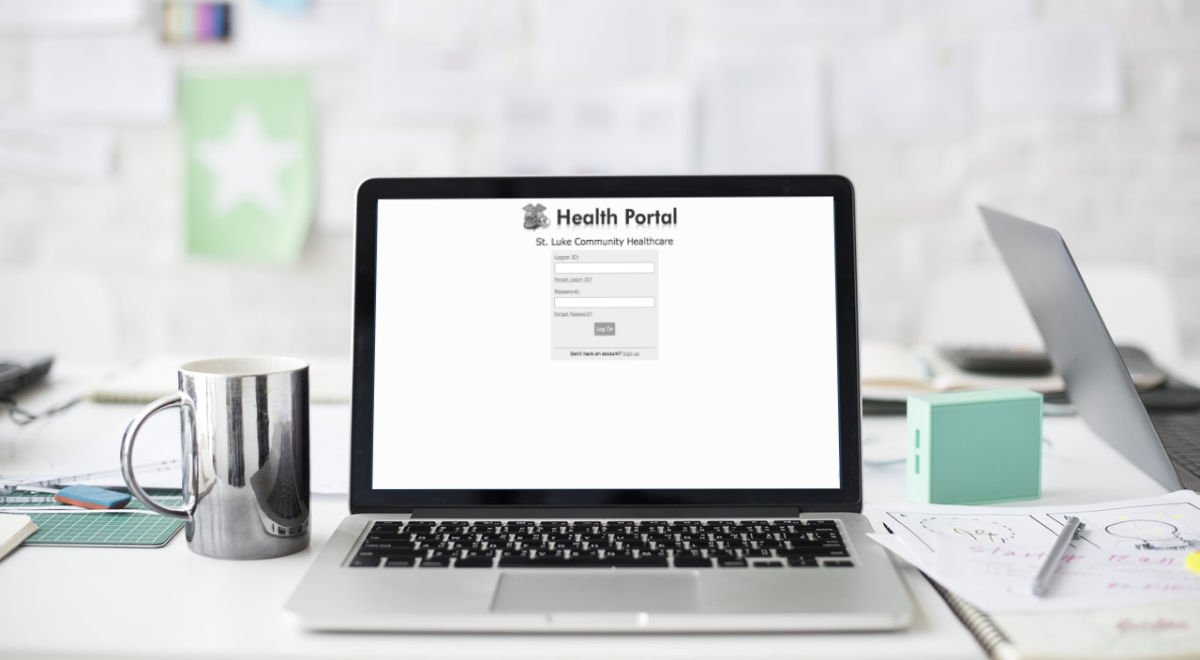 myHealth Portal
Keep track of medications, refills, receive lab results and update contact/insurance info.
FINANCIAL ASSISTANCE
If you are in need of services at St. Luke Community Hospital, and you are without healthcare coverage or have financial challenges, please print and complete a copy of the following forms.
© 2023 St. Luke Community Healthcare. All rights are reserved.
© 2023 St. Luke Community Healthcare. All rights are reserved.